If you are one of those guys who deal with a number of WiFi connections, it is not possible to remember all the passwords. Sadly, there are no direct ways to see wifi password on android also. But if you think finding WiFi password on Android is a hard nut to crack, you are wrong. You can do it as a walk in the park.
There are all types of senseless methods on the internet which requires your device to be rooted for implementation of this method. Believe me, it's possible to see a saved Wi-Fi password on Android without root privileges. So, don't go for their senseless advice.
All of these passwords are stored in the internal memory reserved for an Android device. You may have saved a lot of password on your Android device. So we're going to share two methods, one for root and the other for non-rooted Android devices © s that will help you recover your forgotten WiFi passwords.Android device is very intelligent and intelligent. In particular, if you have multiple WiFi connections, it's fairly common to forget about Wi-Fi passwords.
How to see saved wifi password in android without root
1 Method: Using File Managers:
Step 1 : First, you need a file explorer that gives you read access to the root folder.If your default file manager does not give you read access to the root folder, you can install Root Explorer or Super Manager.Which will help to grant Superuser permission to access the root folder.
Go to data/misc/wifi folder, and you will find a file named wpa_supplicant.conf.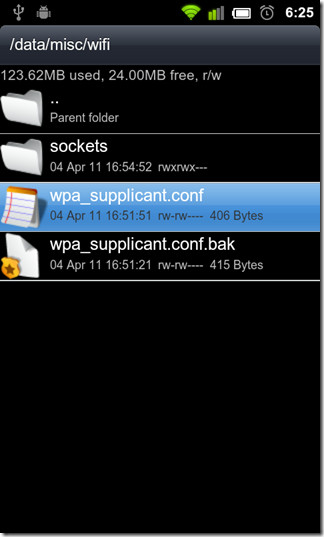 Step 2 : Open the file and make sure to open the file in the embedded text with HTML reader for the task.Now in this file, you will be able to see the SSID network and their passwords aside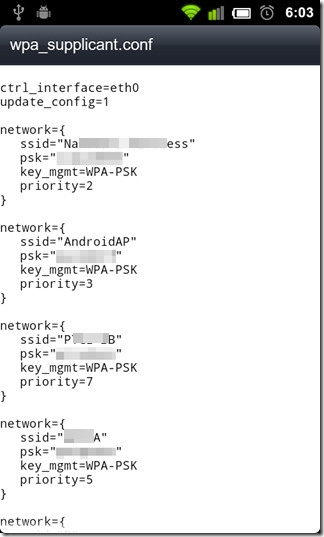 Now make a note of SSID name and its password or you can simply copy paste them in another notepad file.with this procedure you will be able to view all the saved WiFi passwords on the Android Device.
Note : Make sure note to rewrite anything in WPA_supplicant.conf or else it may show the effect on your WiFi connectivity.
How To Find WiFi Passwords using ES File Explorer :

Step 1 : Open play store search for ES File Explorer Apk on your Android device install and open the app
Step 2 : Now you need to grant the Root Permissions for the file manager (or) simply enable the "Root Explorer" option in ES File Explorer.
Step 3 : After enabling the Root Permissions search for the folder called "Data" peresent in the ROM of your device.
Step 4 : Inside the folder Date you need to locate the folder "Misc"
Step 5 : Now Inside the WiFi folder,locate the file name called wpa_supplicant.conf.Open the file simply with Text/HTML.viewer
Step 6 : Now you can find all the saved passwords along with SSID names next to it.
Thats it ! You are done,this is how you can find all the connected passwords of your Android device using ES File Explorer
Method 2 : By Using Wifi Password Recovery Tool :
Wifi Password Recovery is the free tool that requires root access to recover passwords saved in your Android smartphone.Most of them uses this tool to back up their all Wifi passwords on Android Mobile.
Feature of Wifi Password Recovery Tool :
LIST, BACKUP & RESTORE all network's (WiFi) password saved on your device!
Show SSID and Password on fullscreen (for easy viewing and sharing with others)
Copy WiFi Password to Clipboard (to be able to paste anywhere)
Show QR Code (to another device scan and access the network)
Share password through SMS or Email
How To Use Wifi Password Recovery?
Step 1 : Open playstore on your Rooted mobile and search for WiFi Password Recovery app and download and install it.
Step 2 : After installing successfully grant the Root Permissions for the app.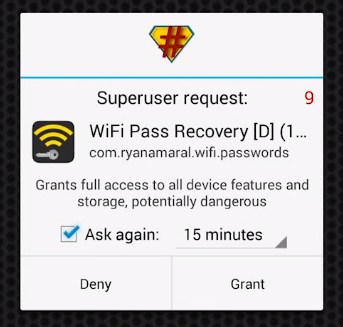 Step 3 : Now we can view all the saved wifi passwords listed with SSID(Network Name) along with its password.To copy the password simply tap on the network and select "copy password to clipboard".
That's it you are done ! This is how we can find the saved passwords using Wifi password recovery in your smartphone.There are many apps available on Playstore which can perform the same task,but WiFi Password Recovery is the best one as it is easy to use.
How To View Saved Wi-Fi Passwords On iOS :
If you have jailbroken your device, install a nifty tweak called NetworkList from Cydia. After you have installed the tweak, all you need to do is go to the Wi-Fi settings of your device and you will see a new button named Network Passwords in there. In iOS 7 it will be shown as Known Networks. Just tap on it and you will be able to see all the Wi-Fi passwords that are stored on your device.
Network list is very basic and only displays the passwords. You don't even have the permission to select and copy it to your clipboard to send it as a text message. You just need to use the conventional method of a pen and a paper, and write it down (or memorize it).
Final Words :
So that was how you can get the saved Wi-Fi passwords on your iOS and Android devices. If you know of a better way to get the task done, please don't forget to share it with us in the comments.