List Of Most Popular Rooted Apps 2017
Best Root Apps 2017 : In this article I'm going to cover Best Root Apps for Android.You might be heard about the benefits of Rooted Android Device.So, you also rooted your phone ? Right, but you cannot enjoy lots of customization without any app. You need some Best Root Apps for Android Phone to Customize and Tweak your Android Device.Here I wrote about best root apps for android. Rooting your Android phone is the first path towards customizing your phone for optimum use. Once you have your device rooted, you will not only be able to use certain apps, you can also remove bloatware, boost battery life, make your Android work snappier and faster plus further customize the internal systems for better performance you won't be able to get from a non-rooted phone.Here, I will provide you the best root apps that your rooted Android device must have.
It's true that rooting your device has become far less essential these days than the days of old but there are still plenty of reasons to root your device. It adds functionality that unrooted devices can't have. It's essentially its own genre of apps. You knew that already, though. Here are the best root apps for Android!
What Is Rooting ?
Rooting an Android device was a difficult task and further rooting also removed the manufacturer's warranty of the device.. Although rooting is very popular these days, many Android users are totally unaware of how to root their smartphones and tablets. The rooting of Android gives you the ability to completely remove and replace the operating system of your device, usually with a more recent version of its operating system current, for example from Android Kitkat to Android Oreo.The rooting of Android is the process that allows users of smartphones, tablets and other devices running the Android mobile operating system to gain control and authority. As a result, many users have been scared by the rooting of their Android. Thanks to new Android rooting software; any user can root the device easily and quickly. When you root an Android phone, it allows you to act as the administrator of the phone. But today, Android users can root their devices in minutes
Benefits of Rooting Your Android Device :
Plenty of Apps.
Speed /Battery life Boosts.
A Free Wi-Fi Hotspot.
Better Backup.
Latest Operating System (OS)Updates.
Infinite Features.
Increases Performance.
Reversible.
Access Blocked Features.
Install Custom ROM's.
Full control over your system.
Top 10 Best Root Apps 2017
Rooted apps for android had become really popular since last past few years.We Hackingnewstutorials provides Android root apps download free.If you're looking for the List of Best Root Apps for Android 2017 on your phone then you have come to the proper place. Find the best android root apps 2017 to youAndroidid smartphone below:
1. Greenify
Greenify is the primary app in my listing as it is extremely easy and really effective in increasing the battery life of your Android. It's a quite simple app and its fundamental function is to hibernate your background apps.You even have the choice to hibernate your applications and let the remaining apps like FB and WhatsApp to run as normal.These background applications drain your valuable battery even when they aren't in use! Therefore this app may be very common amongst a number of Android users.
2. TitaniumBackup
Titanium Backup is most important in our Best Root Apps list. As an Android user, you must need Backup of your phone. This is an awesome app that can Backup & Restores data of your phone easily. You can also Backup Data of any particular APK file. Sometimes, when you're planning to reset your Android device, make sure to take the backup of important apps using Titanium Backup App. Also, easily restore the data and avoid the problem of losing your data.
3.Xposed Framework
You may already know about Custom ROMs for Android. Custom ROMs allows the more customization level in your Android Phone. They make your phone's look and performance much better from earlier. But if you don't want to Install Custom ROMs on your Phone, Xposed Framework is an another choice for you. Xposed Framework allows you to modify your phone's system without Custom ROMs, using Xposed Modules. Check here How to Install Xposed Framework in Rooted Android Phone.
4. Solid Explorer Classic
With simple feature options and a large number of customization options, this app is on the list of top 10 rooted apps for Android.Solid Explorer Classic is yet another best root app for Android users.. It offers you a large number of cloud options, including Google Drive, Dropbox, One Drive, and more. It is an application based on the exploration of files, through which you can go further in the storage of your device.
List of Most Used Rooted Apps 2017
5. ROM Manager
ROM manager is one of the most used ROM manager for Android. It is used for Android rooting, and there are more than one million downloads so far and the number is increasing day by day. This application allows you to download and install ROMs on your cellphone storage capacity and flash Clockwork recovery such as ClockworkMod touch recovery.
6.Gravity Box :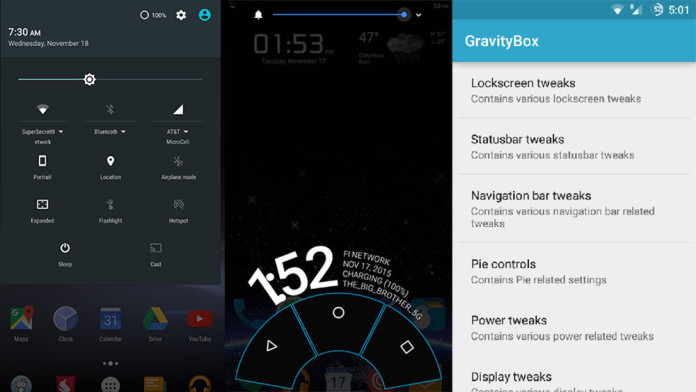 GravityBox is actually a module for Xposed, the awesome framework that lets you basically create your own custom ROM with just the features you want—and no ROM flashing required. So, you'll need to be rooted and have the Xposed framework installed for this to work, but it's insanely easy to set up.Another one of the few best Android root apps, this is for the one who wish to control the entire customization of their device and go to the next level. This requires the functioning of Xposed Installed alongside, and can help the ones who are looking to change their phone buttons, insert a navigation bar, notification bar, along with many more features.
7. SCR Screen Recorder
SCR Screen Recorder is an exceptional root application available on Google Playstore for free.. SCR Screen Recorder has 12 different languages, which is quite impressive. As this name suggests this app allows you to save the screen of your Android smartphone. There are several other screen recorder applications available on Google Playstore, but they do not offer as much functionality as SCR Screen Recorder.
8. Wifi Kill
WiFiKill APK: Ever faced the difficulty of using the WiFi connection lags because of too many users?. Yes, you would have. Here is the ultimate solution for it. The WiFiKill APK it helps you to cut off or kill WiFi to devices connected to the same WiFi by taking control over the WiFi Network. WiFiKill.apk checks and grabs the devices and initiate the kill process.No More worries. No More Slower WiFi. Get the exclusive WiFiKill APK for Android.WiFiKill root apk download as it requires root access on your android smartphone. The attention grabber WiFiKill sneaks into the connected WiFi and interrupt the connection between the users in it.
Rooted Apps That Your Android Device Must Have
9. Lucky Patcher
Lucky patcher is a splendid android app to put off ads, regulate apps permissions, backup and repair apps, bypass top rate Packages license verification, and extra. To apply all feature, you want a rooted android mobile.At first, it works as very good Ad blocker which will let you prevent your Android from Annoying Ads and re-directions. At second it breaks different Apps from Android Market License Confirmation or other Confirmations for the applications. The effectiveness of the Application can be noticed very shortly after it's installation.
10. Supersu
SuperSU is the Superuser access management tool of the future. SuperSU allows for advanced management of Superuser access rights for all the apps on your device that need root. SuperSU has been built from the ground up to counter a number of problems with other Superuser access management tools.SuperSU is often used by modders to control Android root settings on a per app basis.SuperSU allows for advanced management of Superuser access rights for all the apps on your device that need root.Superuser normally would and can keep track of which apps you've granted root permissions
11.Root Uninstaller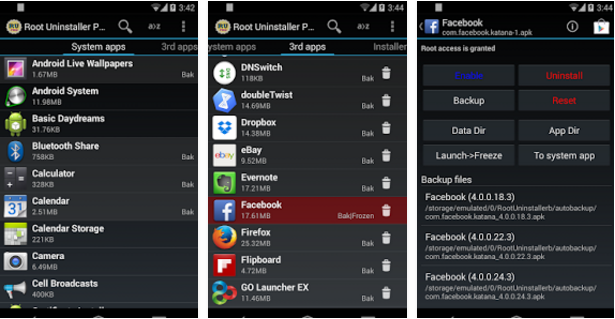 Another noted app in the list of Android root apps is Root Uninstaller. As one can make out from the name, this app is instrumental in removing the bloat, or the pointless apps installed within the device by the manufacturer. A single click is all you need to get these apps out of your phone with this app. Awesome, isn't it?
12. AdAway
Adblock plus is a free, open supply utility that eliminates advertisements for your android tool. It is a ought to- Have for root users . This one is configurable in order that a few good ads get through that's nice and the app is configurable. It's no longer available on the google play however there may be an professional link from abp that you could use to get it. It is to be one of the must to-have root apps.
Final Words : 
So Guys, these are the most used rooted apps 2017.So, if you recently rooted your android device. You should try these best root apps on your phone.They are being downloaded by millions of android users all over the world, and are the most trending and popular rooting apps.I am sure you will definitely love these apps.We have individually shared latest rooted apps for android and rated them in keeping with their performance, functions and balance.Thus,this was my views on Best Root Apps.We hope you enjoy the article 'Best Root Apps for Android 2017' Stay tuned for more updates.If you know any other best root apps, please let me know in the comments section.